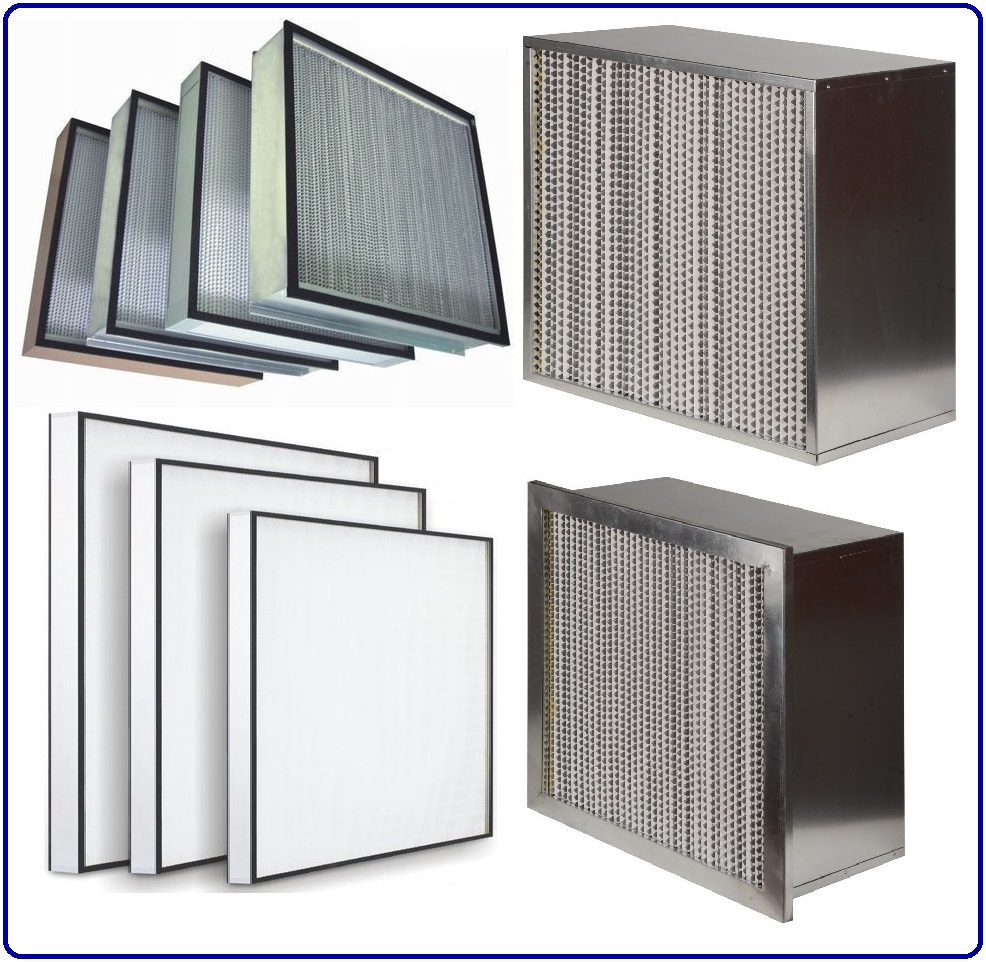 HEPA Filter
Clean air is vital in all healthcare process, the prime function of air filters is to protect the system from pollutants (unwanted particles) present in the air from fouling applications of these filters very vast not limit to Hospital, Operation theater, Healthcare industries, Food & Beverages process and Nuclear Industries etc.
Deep Pleat HEPA/ ULPA Filters

Application: Filtration in Clean-room & LAF Benches
Filter Class: H10-H12
Case: Sandblasted Aluminum Anodized extruded section
Media: Micro-Glass Fiber
Separator: Hot Melt Glue
Sealant: Polyurethane based adhesive
Gasket: Neoprene Rubber
Initial pressure drop: ≤ 150 Pa
Rec. final pressure drop: 300 Pa
Application Temperature: 70°C in Continuous service
Face Velocity: upto 1.25 m/s
Mini Pleat HEPA Filters
We offer the complete range of mini pleat HEPA filters manufactured in wide variety of custom depths. Media Glass fiber, Separators Glass Fiber, Frame SS 304/ 316, Aluminum Extruded (Peripheral channel & Knife edge) Grill One/both side epoxy coated grill Pressure Drop initial 12 to 18 mm Wc, max working pressure 50 mm Wc, Temperature Ambient to 120ºċ, Test individually tested as per norms.
Rating Euro vent H10 H11 H12 H13 H14
Efficiency @ MPPS 85% 95% 99.5% 99.95% 99.995%
Pre filter / Fine Filter / Super Fine Filter / Micro Vee Filter
Apex Industries is a custom-designer and made-to-spec producer of certified & tested HVAC air filters. We offer several types of media and HVAC air filters for Hospital, Operation Theater, Healthcare industries, Food & Beverages process and Nuclear Industries and for AHU's etc. superior dust retention, fan air filters, and flame resistant filters.